Skateboarders are a pretty unique bunch. We tend to be a little eccentric and like to think that we're the only ones that do what we do. So, if you want to learn how to slow down on a skateboard? You're not alone.
In fact, it's one of the most common questions we get asked about skateboarding. A lot of people want to go fast when they ride their longboards, but if you want to get better at going slow, then this guide is for you!
In this article, we're going to give you some tips and tricks on how to slow down on a skateboard. We will also discuss the physics of slowing down on a skateboard that will help you better understand the whole phenomenon. So, let's get started.
Why is it important to learn how to slow down on a Skateboard?
Being able to slow down on a skateboard is an essential part of skateboarding. You will inevitably find yourself in some situations where you will need to slow down to avoid an obstacle.
Furthermore, if you're someone that rides in the streets and you want to get somewhere, you will have to accelerate and then slow down in order to avoid moving traffic. In addition, there are some main reasons that you may want to learn how to slow down a skateboard.
To Avoid Barriers
You may not realize it, but there are tons of barriers like curbs, sidewalks, walls, and stairs around the city that you might want to avoid. Skating really fast can cause you to misjudge your speed and end up slamming into these objects with all the momentum you gathered from moving fast.
To Stop Safely
You may also find yourself in a situation where you need to stop your skateboard. For example, if you are skating down the street and you need to stop in order to catch a bus. You can learn how to slow down on a skateboard to help you stop safely.
To Do Tricks
There are a lot of skateboard tricks that you can only do if you can slow down on a skateboard. If you want to learn how to slow down on a skateboard, you can do many different tricks that will allow you to get a lot of control and spin while you skate.
To Avoid Other Skateboarders
There are plenty of other skateboarders out there. Skating fast is really great, but it can be dangerous if you don't know how to slow down. If you're going fast and you don't know how to slow down, you can easily end up hurting yourself. In addition, you can also end up hurting other skateboarders by crashing into them.
Understand the physics of slowing down on a skateboard
The physics of slowing down on a skateboard seems to be pretty clear. It's not rocket science. But, just in case you're not sure, let's break it down.
Skateboards are made up of four wheels and are unique in that they are the only vehicle that has been engineered to roll across four points of contact at once. This allows skateboarders to make long, controlled slides as well as fast, aerial turns.
When you skateboard, you can use your balance and inertia to slow down. This is because the more inertia you have, the harder it is to slow down. Inertia is defined as the resistance to change in motion.
So, it's pretty simple, actually. The faster you go, the harder it is to slow down and stop. When you're moving faster, it takes longer for the wheels to slow down and start gripping the road. This is because the faster you're going, the longer it takes for the board to translate the energy from your shoes into the wheels.
This is why the board doesn't slow down as fast when you're going fast, as when you're going slow.
4 Ways to Slow down on a Skateboard
Use Your Legs to Brake
The most common way to slow down is to use your legs as brakes. This works by lifting your back leg off the board while keeping your front foot on the board. By doing this, your board will start to slow down.
Slow Down by Leaning Back
This is the most comfortable way to slow down on a skateboard, and the one that most beginner skaters use. The problem is, it doesn't really work all that well. The idea is to lean back and put some weight on the back wheels so that they can absorb more of the friction and slow the board down.
Turn Your Board on Its Side
It is the best way to slow down on a longboard. When you turn your longboard on its side, your wheels become wedged between your deck and the ground. This will slow you down quickly. You don't have to come to a complete stop, but you will be able to get closer to a stop than if you're just going to slam on your board to slow down.
90 Degrees Turn
Turning your skateboard 90 degrees puts it into a sliding position which can slow you down. If you've ever watched skateboarders do a trick and then also saw them rolling away from the trick, chances are they are turning their skateboards into a sliding position. This can slow you down a lot and can also be a lot of fun.
Here is a great video that shows some of the techniques mentioned above:
Conclusion
Skateboarding is fun, but you want to avoid doing serious damage if you can help it — which is where these tips come in handy! By slowing yourself down and practicing, you can become a smooth and safe skater in no time.
We have discussed the best ways to slow down on a skateboard, and we expect that you'll use them to make the most out of your next skateboarding session.
We hope that you've enjoyed this article. If you have any questions regarding handling your skateboard then you can ask us, we will be happy to help you out with your confusion.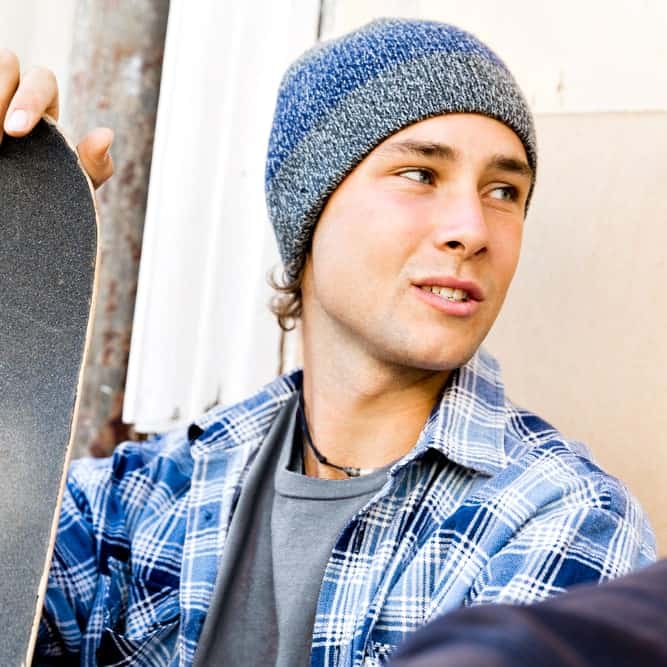 Hi, my name is Eric and I live for skateboarding! I hope you've enjoyed this blog post? If you have it would make my day if you could share it with your friends and family. The more people I can get active and skateboarding the better. I'm here to help you think less and skate more so please keep following my work.