Skateboarding is a great way to get around, have fun, and stay in shape, but if you don't have a skateboard ramp, it can be hard to practice your tricks.
Not having a skateboard ramp can really limit your ability to improve your skills. It can also be dangerous to try and learn new tricks on the street or in public parks.
You can easily build a skateboard ramp at home with some basic tools and materials. In this article, we will show you how to make a skateboard ramp that is perfect for beginners. By following our easy step-by-step guide, you can have your very own skateboard ramp in no time. So, let's get started.
This is a great little video explaining hot to make a skateboard ramp and some of the tools needed:
What do you Need to Make a Skateboard Ramp?
Materials
Plywood
Masonite
Steel
Screws
Tools
Drill
Tape measure
Circular saw
Pencil
Drill bit
How to Make a Skateboard Ramp?
Create a Print
First of all, create a printout of the desired skateboard ramp. This will help as a guide when cutting out the wood. If you want to make a small quarter pipe, for example, find a picture or drawing of one online and print it out.
When creating a design for the skateboard ramp, be sure to use your imagination. The possibilities are endless, so think outside the box. Perhaps you want to add some stairs or a platform to your ramp. Get creative and have fun with it.
Select the Place
Once you have a design in mind, it's time to select the place where you will build your ramp. Pick a flat surface that is free of obstacles. If you're building a small ramp, you can probably do it right in your driveway.
But if you're planning on making a bigger ramp, you'll need to find a larger space, such as a park or open field. Once you've found the perfect spot, it's time to get to work.
Measure and Mark the Wood
The next step is to measure and mark the wood. Cut two pieces of plywood or masonite that are the same size as your printout. Then, use a tape measure to mark where you will need to cut the wood.
Use a pencil to mark the cutting lines on the wood. Be sure to make the lines as straight as possible. If you're not confident in your ability to cut a straight line, you can always ask a friend or family member for help.
Cut the Wood
Now it's time to cut the wood. If you're using a circular saw, be sure to follow the lines that you marked on the wood.
If you don't have a circular saw, you can always use a drill and drill bit to create the holes for your screws. Just be sure to drill the holes in a straight line.
Connections
Connections are the means through which the various components of the skateboard ramp are connected. In most cases, these will be screws or nails. It's important to use the right type of screw or nail for the material you're using.
For example, if you're using plywood, you'll want to use screws that are designed for plywood. The same goes for masonite. Be sure to consult the instructions that came with your materials to see what type of screw or nail is best.
Add the Plywood
Now it's time to add the plywood. Place the two pieces of wood on the ground and line them up with your printout. Then, use your screws or nails to connect the two pieces of wood. Be sure to make the connection as tight as possible.
If you're using plywood, you may want to drill pilot holes before screwing the wood together. This will help to prevent the wood from splitting.
Seal the Ramp
It's crucial to glue and seal the ramps in all of the right places. This is a list of quick and easy things you can take to ensure the ramp lasts longer than most others. For a good level of stability, use white glue. Make sure to use adhesive when putting the ramp together and working it in. White glue can be used to secure the connections.
Finish the Ramp Surface
You can now finish the ramp surface. Whether you're using the highest-quality satellite or more cost-effective plywood, make sure to keep your materials protected from the elements at all times.
Skatelite is weatherproof, but a layer of tar paper behind it will protect the plywood from being soaked by any water that seeps in through cracks. If you're using plywood or masonite, use water-resistant paint to protect the surface from rain.
Use Polyurethane or Spar Urethane Paint to finish the job. Spar Urethane is the most effective, but it is also the most expensive. Polyurethane does not provide as much protection as Spar Urethane, but it is available in a variety of colors.
Connect the Steel
Now it's time to connect the steel frame. This is the skeleton of the skateboard ramp. It will provide support and stability for the entire structure. Use screws to connect the steel frame to the plywood. Be sure to use galvanized screws, as they will not rust.
Add the Bracing
The final step is to add the bracing. This will help to keep the ramp from wobbling or tipping over. Use screws or nails to connect the bracing to the steel frame. Be sure to make the connection as tight as possible.
Conclusion
Building a skateboard ramp is a fun and rewarding project. It's also a great way to get outside and enjoy the fresh air. With a little bit of planning and elbow grease, you can build a ramp that will last for years. Just be sure to follow the instructions carefully and use the right materials.
In the guide, we went over the basics of how to build a skateboard ramp. We covered everything from choosing the right materials to adding the finishing touches. So if you are planning to build one soon, be sure to keep this guide handy.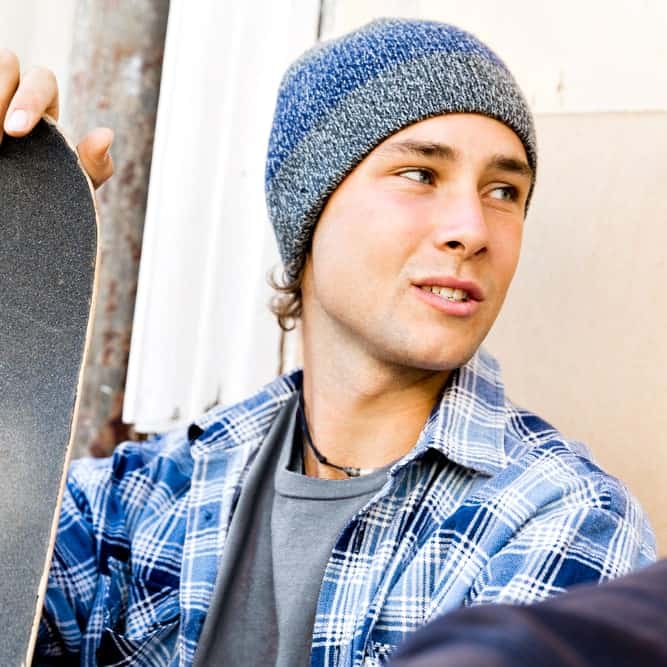 Hi, my name is Eric and I live for skateboarding! I hope you've enjoyed this blog post? If you have it would make my day if you could share it with your friends and family. The more people I can get active and skateboarding the better. I'm here to help you think less and skate more so please keep following my work.