Skateboarding is an activity that is good for the body and mind, and it is a great way to enjoy the outdoors. It is a popular activity among people of all ages, and a skateboard makes a great gift for any occasion. Gift wrapping can be a challenge, especially when it comes to unique items like skateboards. But with a little creativity, it's possible!
Learning how to gift wrap a skateboard is a great way to show your loved ones that you care. It also shows that you took the time to personalize their gift. In this blog post, we'll show you how to wrap a skateboard in a way that will make the recipient feel special. So if you have a skateboard lover in your life, read on for some inspiration!
How To Gift Wrap A Skateboard? Step-By-Step Guide
Material Required
Skateboard
Measuring tape
Wrapping paper
Tape
Scissors
Ribbon
Cardboard
Gift card
Pencil
Paper
Instructions
Step 1 – Measure Board's Size
First, you measure the skateboard that will be packed carefully along its length, width, and height with a measuring tape. With the aid of a pencil, record all the measuring dimensions onto the paper.
Step 2 – Prepare the cardboard
After you know the dimensions, start preparing the cardboard by cutting it out in those specific measures. Once that is done, take the wrapping paper and cut it into a large rectangle that will be able to wrap around the entire cardboard.
Step 3 – Find the Right Wrapping Paper
Now, it's time to look for the right wrapping paper. If you want to make things more personal, you can always use skateboard-themed wrapping paper. But if you can't find any, don't worry! Any kind of wrapping paper will do the trick as long as it's big enough to wrap around the entire skateboard.
Step 4 – Tape It All Together
After you have the wrapping paper and cardboard cut to size, it's time to put it all together. Place the wrapping paper down on a flat surface and then put the cardboard on top of it. Make sure that the cardboard is centered in the middle of the wrapping paper. Once it's in place, start taping the edges of the cardboard to the wrapping paper. Be sure to use enough tape so that the cardboard is secure.
Step 5 – Close the Skateboard in Cardboard Box
Now that the skateboard is wrapped, it's time to close it up in the cardboard box. This will help keep the skateboard safe during transport. Simply place the skateboard inside the box and then close it up with tape.
Step 6 – Attach the Ribbon
The final step is to add a ribbon to the box. This will make it look more festive and will add an extra touch of class. Simply cut a length of ribbon and then tape it to the top of the box. You can also add a card to leave a personal message for the recipient.
How To Gift Wrap The Skateboard Without The Box?
No particular box needs to be purchased if you're seeking a creative way to gift-wrap a skateboard. You may simply wrap the skateboard without one with a little imagination. Tissue paper, packing tape, scissors, and ribbon are the supplies you'll need.
Lay the tissue paper out flat on the ground first. In the center of the paper, position the skateboard. Fold the paper up around it, and tape it down.
Next, cut two identical-sized lengths of ribbon with scissors. Each ribbon piece should be wrapped around the skateboard's opposite ends and crisscrossed in the center. You can now cut off any extra ribbon. Although it can take a bit longer, this approach is unquestionably worthwhile.
FAQs
Q: Can I use vinyl to wrap a skateboard?
A: Although it can be used, vinyl is not the ideal material for wrapping a skateboard. Vinyl is too slick to offer the necessary grip for skating. Additionally, it isn't very strong and will easily shred if you catch it on something.
Get a thick, high-quality wrap that won't tear easily if you're set on using vinyl. If not, you should stick to classic skateboard materials like wood or composite. Gratitude for reading! This essay ought to be useful, we hope.
Q: What is the best way to wrap a skateboard for shipping?
A: The best way to wrap a skateboard for shipping is to first measure the board and then wrap it in cardboard. You can then close it up in a box and attach a ribbon. This will help keep the skateboard safe during transport.
Q: How can I wrap the skateboard for Christmas?
A: Christmas gift-giving is something we all enjoy, but it may occasionally be challenging to know how to package items that aren't the typical shape. A brief tutorial on wrapping a skateboard so it looks nice beneath the tree is provided here.
The board should first be placed on some wrapping paper. Make sure you have enough paper to wrap the board multiple times with it.
Next, take two lengths of string and crisscross them in the middle to form an "x" as you knot them around the board's center. Fold the paper around the board, securing it in place with the string. Once the board has been covered with a few layers of paper, secure it by the bow-tying the string.
Conclusion
Skateboard gift-wrapping can be simple and easy with the right supplies. With a little creativity, you can even wrap a skateboard without a box. Be sure to measure the board first and then use cardboard to wrap it. This will help keep the skateboard safe during transport. Lastly, don't forget to attach a ribbon to the box for an extra touch of class.
In the guide, we have discussed how to measure and wrap a skateboard in wrapping paper as well as how to gift-wrap a skateboard without a box. We have also included a FAQ section to answer some common questions about skateboard gift-wrapping.
We hope this guide has helped you learn how to gift wrap a skateboard. With a little patience and creativity, you can easily make your skateboard wrapping paper. So, don't wait any longer, get started today!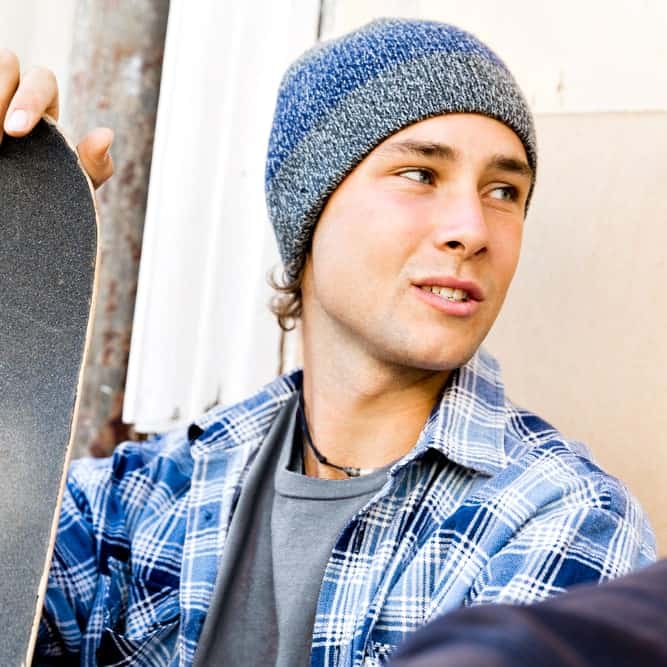 Hi, my name is Eric and I live for skateboarding! I hope you've enjoyed this blog post? If you have it would make my day if you could share it with your friends and family. The more people I can get active and skateboarding the better. I'm here to help you think less and skate more so please keep following my work.