You want the best skateboard wheels for cruising and you don't know where to start? Well, we are here to help you.
Skateboards are a great way to get around town, and the right wheels will make your cruising even more fun. Skateboard wheels come in many shapes and sizes. The smallest variations make a huge difference when it comes to the performance of your board. This is why beginners usually have a hard time choosing the best skateboard wheels.
With so many different skateboard wheel brands and models on the market and with some of them sharing some similarities, it might be a daunting task to pick the best ones.
We have provided here a list of what we believe are good options for cruising and will work for most situations so that you can have a good time without having to worry about your equipment.
Best Skateboard Wheels for Cruising – Our Top Picks!
When it comes to cruising around on your skateboard, you want the smoothest, most frictionless ride possible. This is where good skateboard wheels come in. We have taken the time to review and test many different kinds of skateboard wheels to determine which ones we think are best for cruising.
Here are our top recommended products.
1. Fireball Skateboard Wheels for Cruising
Our Review:
Fireball has one of the best skateboard wheels for rough roads and is a great all-around wheel that would be perfect for anyone looking to roll around town.
It has 60mm wheel size with 81a durometer for smaller longboards but can fit in standard size boards. It has a great smooth ride, with an excellent grip in any riding condition thanks to its hard durometer.
You will like that it's the smaller cruisers and double kick skateboards for those that are in search of an efficient ride without having to sacrifice too much maneuverability.
Moreover, it possesses urethane of high quality, which is produced and designed in California so that you get the best quality for your money. The company only uses top-of-the-line premium materials so that you can be sure of their durability and quality.
Whether cruising, dancing, or freeriding, the 81a urethane and a 40mm width (35mm contact) roll over potholes and cracks with ease. It is also a great choice for those just starting, as it is easy to control and provides a predictable ride. The large black urethane fiberglass core provides maximum strength and consistent slides throughout the wheel's lifespan.
These wheels are available as an option. They have huge urethane streaks and are standard on the vehicle. The cushioned wheels break in gradually and allow for smooth movements to the core. You can see how far you've slid at your favorite freeride spot with ease.
Surprisingly, this product is "Centerset Core" which means both sides of the wheels are identical in size, shape, color, and design. This is great for quick slashy turns when freeriding and they have consistent slides and wear patterns.
---
2. FREEDARE Skateboard Wheels for Cruising
Our Review:
The hardware for this item is made of 60mm 83A polyurethane wheels with bearings. The wheel diameter is 60mm and the width is 45mm.
One of the main advantages of its bearing is that it offers a smooth ride. The wheels are also quite durable and should be able to handle a good amount of wear and tear. The bearing is 22mm X 8mm, and it has been put on the wheels.
We loved that the 60mm wheels are great for beginners skating boards, longboards, or traveling. It can be used on both smooth concrete and asphalt, as well as ground, ramps, walkways, and other surfaces.
Also, its 83A hardness polyurethane material is highly resistant to wear and tear. It glides quickly and easily, and it has a sticky edge that aids downhill travel. The cones are made of red polyurethane with three LED lights wrapped in lucency PU high-grade urethane. At the bottom, there's a blue plastic stopper to avoid scratching your floor surfaces.
It's also worth mentioning that the company offers a 30-day warranty with this purchase. If you're not happy with the product for any reason, you can return it for a full refund.
All in all, they're quite robust for street skating and extremely smooth on skate park terrain. Because of the three LED lights, it's bright and eye-catching when playing. The ABEC -7 bearings are custom made, and they're able to withstand a huge amount of wear and tear. Weighing just 0.56 kilograms, they're easy to carry around.
---
3. Shark Skateboard Wheels for Cruising
Our Review:
Shark Wheels have quickly become a popular choice for skateboard wheels, and it's easy to see why.
It has excellent all-terrain capabilities, with excellent grip on a wet surface, smooth ride for long-distance cruising, and perfect shape for doing kick/flip tricks. It has a great size of 60mm, with its smaller wheel diameter, which makes it perfect for catching all the tricks.
Most people love that this company has brought reinvention and revolution to the skateboard wheels market. They currently have five different products – 50mm, 60mm, and 70mm duros as well as a "wheelie board" and a "city cruiser" wheel.
What's more, they offer a great variety of colors for each wheel – including glow in the dark! People have been impressed with the fact that they offer a two-year warranty for this product.
Some of the scientifically proven benefits are that Shark wheels can help you conserve more energy and reduce your risk of injuries. Plus, they are great for burning calories, which can lead to more muscle definition.
With the help of these wheels, you can achieve the best size skateboard for cruising as well as riding, as it offers a smooth ride and provides an awesome grip. The durometer of the wheels is 78a, which means that you can use it on both rough surfaces and provide friction while in motion.
---
4. Ricta Skateboard Wheels for Cruising
Our Review:
For almost a decade, this has been a prominent member of the skateboard wheel market. Ricta wheels are produced by NHS Inc., which is a major player in the business and boasts about offering a wide range of wheels, sizes, and shapes. The company is based in Santa Barbara, California.
The company's approach is to combine the tiny size of a typical street wheel with the type of softer compound generally seen on bigger diameter downhill wheels.
Furthermore, these Crystal Clouds can handle any terrain, regardless of how rough the surface is, thanks to an ultra-soft 78a durometer hardness. Its smaller diameter makes them popular among modern skate filmers, as they provide a smoother ride than other wheels.
It is slightly shorter, but wider, making it ideal for small-to-medium cruising and also functional with wider trucks that can offer stability at high speeds. These are designed for optimum grip and comfort on any surface thanks to the proprietary urethane formulation of Rita.
With any wheel larger than 55mm in diameter, you should choose mid to high-profile trucks with this item. However, if you enjoy the feel, go for it. They can also be skateboarded in a trick sense on rough terrain, owing to their form and size.
Overall, this double wheel is ideal for transporting, cruising with, filming, and surviving rough terrains. It could also be a wonderful option for skaters who want something softer than the standard diameter skateboard wheel.
---
5. TGM Skateboard Wheels for Cruising
Our Review:
It is currently one of the best companies offering affordable cruising wheels. For just USD 24.93 you can get a set of four wheels, and for this price, you'll get the best performance possible.
TGM specializes in making various and unique wheels with different shapes and sizes (52mm, 58mm, 66mm, etc) but this unit is 70mm. This wheel has a wide contact patch that's perfect for gripping the road and cruising around with ease.
Another great feature is that the wheel is made from high-quality 78A urethane, so it's durable and won't break the first time you drop down. The graphic though is a bit simple, and you might expect to get better designs for this price.
The majority of the time, these soft wheels are wider and cylinder-shaped. They're almost always cruiser or longboarding wheels. Wheels with this hardness are intended for a smoother ride, better grip, longer distances, and traveling over rough surfaces since they absorb a lot of vibration.
Weighing just 0.99 pounds, they are very lightweight. The smaller diameter lets you travel faster and the larger contact patch engages the ground better for an efficient, controlled ride.
---
6. Bigfoot Skateboard Wheels for Cruising
Our Review:
This 53mm diameter wheel is best suited for skating on the streets, parks, and bowls. The smaller, slower wheels provide excellent stability and are ideal for trick riding.
You will like that the 83a durometer will make the wheel capable of riding over rough surfaces without causing excessive rider fatigue. The low weight of these wheels means that you will gain a bit more speed when riding, even on a slight decline.
These cheap skateboard wheels for cruising are robust and silent, making them perfect for riding over the roughest terrain and the filmmakers adore these wheels. The hard plastic core provides more precise bearing alignment, which ensures that these wheels continue to roll swiftly.
On most skateboards, soft wheels without a core put excessive stress on bearings during turns, slowing you down. The lack of a core on these wheels eliminates that issue, so you can turn with ease.
Bigfoot's low profile and shape of these wheels also make it easy to flip and roll over cracks in the pavement. The manufacturer scaled down the durometer of a normal street wheel to 83a, which is approximately 32mm wide.
All in all, the dimensions of the wheels are 4.25 x 4.25 x 1.25 inches, the weight is 0.23 Kilograms and the company offers a 30 days satisfaction guarantee which shows that they are confident in their product.
---
7. Orangatang Skateboard Wheels for Cruising
Our Review:
Orangatang Kegel is a high-speed steamroller that delivers bone-crunching mayhem and the eradication of a variety of small mammals.
If you're looking to break speed records while leaving a trail of destruction in your wake, then it is the wheel for you. The large, supportive core and sharp edges provide grip like a hooker high on mescaline as you speed across the landscape.
Additionally, the huge 80mm diameter allows for significant roll speeds, whilst the broad 56mm width provides for an adaptable combination of traction and slide response.
We love that the outer lip is flexible enough to hug the road for grip and yet rigid enough to provide uniform performance as the tire wears. The shorter inner lip has a gentle inward bevel for race-worthy traction and dependable drifts.
One of the best features is that the slightly dented cross-section of a 46mm core with a deep "valley" form minimizes weight while providing excellent acceleration, momentum, and a "tacky" smooth ride.
It is designed for downhill skateboard racing, fast carving, pumping, and long-distance pushing. The Kit contains 8 loaded Jehu V2 bearings with extended inner raceways, canceling the need for separate spacers and speed rings.
---
8. Owlsome Skateboard Wheels for Cruising
Our Review:
First of all, the Pro gel color skateboard wheels have a size of 60mm, a width of 44mm, and a durometer of 79a. This makes it very suitable for most decks.
These wheels all have a core of high-quality urethane that is strong and can take a lot of wear and tear. They have a good amount of grip so you will not be slipping, even when you are riding at higher speeds.
Moreover, they're meant to be used with a normal skateboard and longboard trucks and bearings, but they're a bit smaller than what's usually seen on a longboard. They should work well with most trucks and still be able to turn as needed.
However, between the board and the trucks, you may require some spacers to avoid wheel bites. One of the most appealing aspects of these wheels is their low cost. They are also quite smooth, giving you firm support while absorbing impacts and reducing foot vibration.
Overall, they make your journey pleasant. They're also less restrictive, allowing for greater speed and mobility on harder surfaces such as blacktop or when skating over things like cracked pavement.
---
9. THMEX Skateboard Wheels for Cruising
Our Review:
These are among the best skateboard wheels for cruising and tricks with bearings that are constructed of 70mm 88A polyurethane. The wheel is 70mm in diameter and 51mm in width, with a 32mm width.
You will like that the bearing is 22mm*8mm (BLACK, ABE-9), which has been mounted on the wheels and they are ideal for long and tiny skateboards. It's possible to use it on any sort of surface, such as all-ground, ramps, sidewalks, smooth concrete, or asphalt.
What adores us is that the 88A/95A PU is a material with excellent hardness, wear-resistance, and minimal noise. It slides quickly and easily, and it has a textured edge that helps when going downhill.
In addition to that the high-quality bearings on the premium wheels allow you to do amazing street tricks. It's also popular among freestyle skaters since it is light. The wheels come with a personalized package as a present for your family or friends.
Weighing just 0.76 Kilograms, they are a great choice for those looking for an upgrade to their current set-up, or for beginner skaters who want something that will help them progress quickly.
---
10. Ricta RIWCL002 Skateboard Wheels for Cruising
Our Review:
These Ricta wheels are great for doing tricks or cruising around town. We highly recommend this for anyone who does both of these activities because the strength of the wheel allows for use on rough surfaces.
It has a solid, 78D core and smooth-rolling, quick 78A soft urethane for a more consistent break. These clouds wheels, on the other hand, make even the most rudimentary of surfaces seem like smooth, perfect surfaces to ride on.
With a sleek modern design, this product is lightweight and compact. It is also ideal for filming and just floating about. Plus, it is also sure to make any skateboard stand out as the wheels are available in four color options.
Due to a 54mm diameter and a Contact Patch of 36mm, these wheels offer a ton of stability. Riders will feel in control at all times with this wheel. The weight is also perfect for tricks and longboarding.
---
Benefits of Cruising Wheels
Cruising wheels for skateboarding offer a lot of benefits for those looking for an upgrade to their current set-up, or for beginner skaters who want something that will help them progress quickly.
Following are some of its advantages:
They give a smooth, quiet ride and are also great for doing tricks, as they work best on rough surfaces.
They provide stability and allow for smoother movement over various surfaces.
The soft urethane gives a good grip and helps in controlling the skateboard.
They come with a sleek, modern design and are available in different colors.
These wheels are also lightweight and compact, making them easy to carry around.
They are perfect for filming and just floating about and look superb in the process.
Last but not least, they are affordable and a maximum of them can be bought for under $30.
So, if you are looking for a new set of wheels for your skateboard, then cruising wheels are worth considering. With their many benefits, they are sure to help you skate better and have more fun. Just be sure to pick the right size and color for your board.
They can be a great investment for beginners as well, as they will provide a stable ride and allow you to hone your skills quickly.
Do We Need Cruising Wheels for Skateboarding?
Some people think that cruising wheels are not necessary for skateboarding and that they can be dangerous. Others believe that cruising wheels make skateboarding easier and more enjoyable.
Cruise wheels are usually larger and softer than other skateboard wheels and are usually designed for smooth surfaces. They not only make skateboarding more enjoyable but also safer, specifically on slightly inclined sidewalks and streets with a lot of cracks.
However, their lack of grip makes them inappropriate for skateboarding in inclines and declines as well as on non-smooth surfaces or surfaces with other debris, such as sand or gravel.
Cruising wheels are normally made of polyurethane and come in many different colors and shapes. They are usually the size of large skateboarding wheels, with diameters ranging between 65mm and 80mm; although they can vary according to the manufacturer.
Some people believe that cruising wheels make it easier for beginner skateboarders to learn how to ride a skateboard. This is because the softness of the wheel can reduce the pain of impact, which is usually experienced when learning to skateboard.
However, other people argue that cruising wheels can be dangerous because they can lead to loss of control. This is particularly true if the wheel loses grip on a surface, for example, during a turn.
Therefore, it is ultimately up to the individual skater to decide whether or not cruising wheels are necessary for them. Cruising wheels can be purchased from sporting goods stores or online retailers that sell sporting items. They can also be made using an old skateboard wheel and a rubber band.
What Type of Skateboard is Best for Cruising?
There's a skateboarding technique that fits your needs, whether you want to master skate moves or enjoy a simple journey down city streets. Cruising is a skater's term for traveling or skating freely to enjoy the view.
A cruiser board is ideal for traveling short distances on your skateboard. These boards are shorter than a longboard but longer than a normal skateboard. They are mid-length boards that are easy to maneuver in the city.
Longboards are fantastic for a leisurely cruise. They have bigger and bulkier wheels than a cruiser board, making them ideal for traveling long distances and difficult terrains.
Following is the comparison of the three types of skateboards that are best for cruising:
The Cruiser Board: This is a classic board from the old days that was used by surfers in California to get to the beach. Popsicle, Yellow, and Black Label Skateboards are brands that have been around for a while, as well as Hobie. This board is 28-inches long and is made of seven plies. It is ideal for short-distance commuting because it is easy to carry around when not riding.
The Drop-Through Board: This is a newer design that is becoming more popular. The deck is cut out so that the trucks are mounted through the deck, which lowers the center of gravity and makes for a stable ride. These boards are typically 34-inches long and are made of nine plies so they are durable and can carry heavyweights. They have a unique look because the deck hangs below the bottom of the board.
The Longboard: These boards are typically 40-inches long and have a unique shape. They might not fit in your backpack or be easy to carry, but they make up for it with a smooth ride. They are made of nine plies and are durable. The trucks are mounted at the end of the board so they can turn more easily. Longboards are perfect for a leisurely cruise and can be used to travel long distances.
There's no one-size-fits-all answer to this question, as the best type of skateboard for cruising depends on your personal choice. Each board type has a distinct advantage over the other two. The beauty of skateboarding is that you can mix and match these boards to create the perfect ride for you.
Best Skateboard Wheels for Cruising – Buying guide
If you are new to skateboarding, you will hear many things regarding the different types of skateboard wheels. There are weird terms like durometer and urethane that might make you feel overwhelmed. But don't worry, this section is going to teach you everything you need to know whenever you go out to buy new skateboard wheels.
You should keep in mind the features mentioned below when shopping for these wheels as they'll play a big role in how your board feels and performs.
Size:
The size of the wheel is probably the most important consideration when buying one. This is because it can affect your speed, agility, and overall performance with the skateboard. Wider boards are usually slower than narrower ones. This is because wider decks take more effort to push, which reduces your speed and agility as a skater.
Straight-Up Size:
This is the diameter of the wheel and usually ranges from 50mm to 80mm. You will find that most people tend to prefer wheels that are around 60mm. This site offers the perfect blend of cruising, grip, and speed.
Durometer:
This is one of the most common features mentioned when buying a new set of wheels. A durometer is a unit that measures how soft or hard the wheel is. A harder wheel provides more grip and stability, while a softer wheel rolls faster. Wheels with a durometer of 70a are suited for carving whereas those with a durometer of 78a are best for cruising.
Urethane:
This is the "rubber-like" substance used to make wheels. The urethane used to create these wheels can have a significant impact on the way they roll. A good-quality urethane is less likely to wear out and offers a smooth ride.
Shape:
There are three popular shapes for skateboard wheels- the standard, offset, and Vogel. You can find the shape of a wheel by identifying the distance between its inner and outer edges.
A standard-shaped wheel has an even distance between the inner and outer edges. This shape is best for speed and grip.
An offset wheel has a greater distance between the inner and outer edges. This shape is much better when it comes to carving and cruising.
Vogel wheels are much different than standard wheels in terms of their geometry, which enables you to have a smoother ride.
Weight:
The weight of a wheel is usually measured in grams. The more weight a wheel has, the more durable it is going to be. However, this also means that it will be harder to push and maneuver around. So, you'll need to find a good balance between durability and weight.
Price:
Wheels can vary in price, depending on the brand, size, and type. You can find a set of good-quality wheels for around $20 to $50. More expensive wheels are usually more durable and perform better than cheaper wheels.
Type:
Every wheel is made using one of two types- urethane or polyurethane. Wheels that are made of urethane are softer and gripper, while those made of polyurethane are harder and faster.
Warranty:
Lastly, you should always check the warranty of a product before buying it. The more expensive the wheels are, the more likely they are to come with longer warranties. Wheels with a warranty ensure that you will be reimbursed if the product is defective or damaged.
FAQS
Q: What size skateboard wheels are best for cruising?
A: Cruiser skateboard wheels come in a variety of sizes, but most cruisers use 60mm-70mm wheels. Larger wheels provide more stability and are better for cruising over larger bumps and cracks in the pavement, while smaller wheels are more agile and allow for tighter turns.
Q: Are 92a wheels good for cruising?
A: These wheels have a medium hardness and are comparable to a soft wheel in terms of durability. You can skate over pebbles and cracks, but you can also slide and revert as if they were hard wheels. If you're a skater on the streets with a lot of expertise, these wheels are ideal for street skating and navigating slightly rocky concrete.
Q: Can I put cruiser wheels on a regular skateboard?
A: A standard skateboard can accommodate cruiser and longboard wheels. Get 1.5″ bolts and half-inch riser pads if you want to mount cruiser or longboard wheels on your skateboard.
Q: What's the difference between a cruiser skateboard and a longboard?
A: Cruiser skateboards are designed for street skating and tricks, while longboards are designed for downhill speed and distance. Cruiser boards typically have a kick tail and a shorter wheelbase, while longboards typically have a pintail and a longer wheelbase.
Conclusion
Whether you're a beginner or an experienced skater, it's important to know the different types of skateboard wheels available on the market. While different types of wheels offer a unique ride, the right wheel is ultimately going to depend on your preferences and skating style.
Cruiser wheels are best for cruising and carving- they offer a smooth ride and can handle light to moderate skateboarding. For greater speed and maneuverability, consider an offset or Vogel-style wheels. Always check the warranty and weight of a wheel before purchasing to ensure you're getting the best product for your needs.
We hope that this guide has been helpful for you. If you have any additional questions, please don't hesitate to get in touch.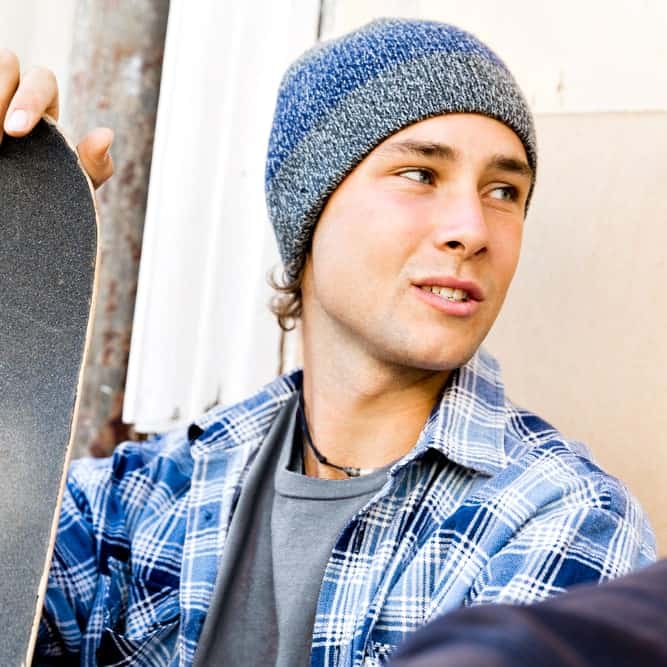 Hi, my name is Eric and I live for skateboarding! I hope you've enjoyed this blog post? If you have it would make my day if you could share it with your friends and family. The more people I can get active and skateboarding the better. I'm here to help you think less and skate more so please keep following my work.